News
News
Lewis wins Tour de Beauce Stage 2- results and report and video
By Canadian Cycling Magazine - Published June 13, 2012
American Craig Lewis (Champion System) clawed his way to the stage two victory at the Tour de Beauce after being in a breakaway for more than 120 kilometres. His companion Canada's Jamie Sparling (Raleigh) hung on for second place as the peloton barrelled toward the finish line behind them. Alexander Serebryakov (Team Type 1 - Sanofi) won the field sprint for third place on the day.
Francisco Mancebo (Competitive Cyclist) relied on some incredible teamwork to maintain his lead in the overall classification. He will wear the leader's jersey into the 'queen' stage three that finishes at the top of Mont Mégantic on Thursday.
Ken Hanson (Optum-Kelly Benefit Strategies) maintained his lead in the King of the Mountain (KOM) competition after winning two ascents during stage one. Matthias Friedemann (Champion System) is now leading the Points classification and his teammate Adiq Othman is leading the young rider category.
Lewis, Sparling and James Williamson (PureBlackRacing) initiated the first and only significant breakaway of the day 40 km into the stage. Lewis, who was 45 seconds behind Mancebo in the overall classification, became the virtual leader on the road when the breakaway gained more than 45 seconds, and went on to gain a maximum of four minutes.
Williamson fell off pace over the final climb of the day positioned at the 130 km mark. Lewis and Sparling continued to drive the pace into the three finishing circuits in Thetford Mines. They maintained a one-minute gap ahead of the peloton until the final lap. Lewis and Sparling crossed the finish line about 30 seconds ahead of the sprinters.
Lewis said he sensed there was an opportunity to win the stage after the 130 km mark. "I knew with the wind and the hills, the rain, our chances were slim but as we got closer you sensed there wasn't much organization behind, so I knew once we got over that last hill with a couple of minutes we had a really great chance," Lewis said.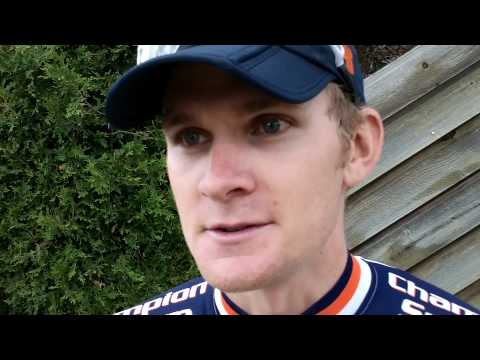 The South Carolina born rider said it was a highlight for him to win at Beauce. It's the "biggest win, individual win of my career so I'm very happy with that," he said.
Raleigh's Sparling had a lot of praise for the work Lewis did during the long breakaway. "He was just a motor bike so, I mean, that guy, whoa, he held off the chase pretty much. I gave him a turn whenever I could, but I don't know … different level."
Sparling's finish at Beauce gives him his second UCI podium of the year. A pattern he wants to continue, and which he hopes the Canadian Cycling Association notices so he can become a carded athlete.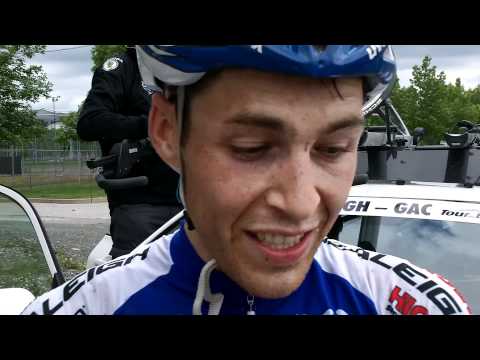 Much of the work to contain the breakaway was done by Competitive Cyclist, whose rider Francisco Mancebo started the stage in the leader's jersey. "We want to keep control of this race at least to the foot of Megantic, and see where the chips fall," said Team Director Gord Fraser. "So we did our part. We kept the yellow jersey here at the Tour de Beauce with Competitive Cyclists – that was the goal of the day."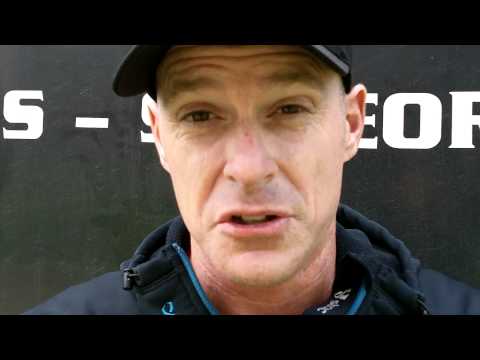 Tomorrow Fraser may be able to come out of the stage with a more definitive grasp of the overall race. Mancebo is an excellent climber. After his win yesterday, he said, "the goal is Mégantic."
1. Craig Lewis (Champion System)
2. Jamie Sparling (Raleigh)
3. Alexander Serebryakov (Team Type 1 - Sanofi)
4. Matthias Friedemann (Champion System)
5. Benjamin Chaddock (Exergy)
6. Martin Gilbert (SpiderTech p/b C10)
7. Francisco Mancebo (Competitive Cyclist)
8. Evan Oliphant (Raleigh)
9. Roman van Uden (PureBlackRacing)
10. Davide Frattini (UnitedHealthcare)
Francisco Mancebo (Competitive Cyclist)
Matthias Friedemann (Champion System)
King of the Mountain classification:
Ken Hanson (Optum-Kelly Benefit Strategies)
Young rider classification:
Adiq Othman (Champion System)